Explore Añasco
The magical coastline
Explore the best of Puerto Rico's west coast at Rincón Beach Resort. When planning what to do during your stay, Añasco offers a myriad of attractions and activities for you to explore.
Immerse yourself in the rich cultural heritage of Puerto Rico by exploring historical sites such as the Church of San Antonio de Padua, a stunning architectural gem dating back to the 18th century.
Unleash your adventurous spirit and indulge in thrilling water sports like surfing, paddleboarding, and kayaking along the pristine beaches of Añasco. Discover the wonders of nature at the Las Cascadas Water Park, where exhilarating water slides and refreshing pools await. For a serene escape, explore the lush landscapes of the Guajataca State Forest, home to scenic hiking trails and breathtaking viewpoints. Food enthusiasts will delight in the local cuisine, with an abundance of seafood restaurants and traditional eateries offering delectable Puerto Rican flavors. Don't miss the opportunity to witness the mesmerizing sunsets that grace Añasco's coastline, creating a magical backdrop for romantic walks along the shore.
Añasco Bay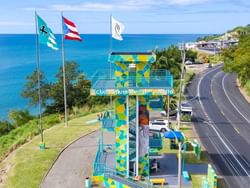 Embark on a captivating boat tour to witness the breathtaking beauty of Añasco Bay and its surrounding mangrove forests, home to a diverse array of bird species and marine wildlife.
Read more
Whether you seek adventure, cultural immersion, or simply a tranquil retreat, Añasco has something for everyone. Come and experience the beauty and charm of this captivating destination on Puerto Rico's west coast.
---